London + Paris part 2 (still in London!)
There are SO MANY PICTURES dear God why. Alright, round two, here we go.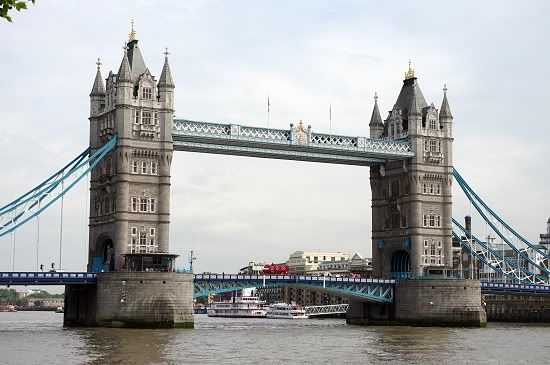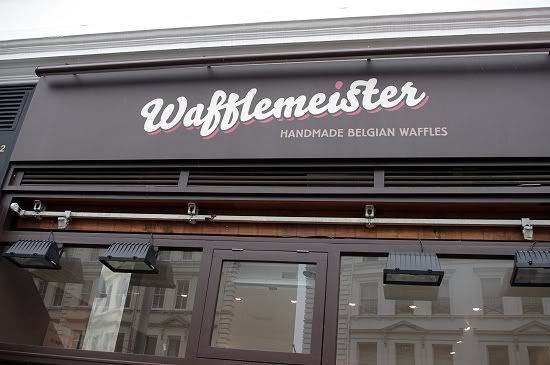 I went in here to see what I could get for breakfast, but their waffles were more like desserts and not actual breakfast waffles. Which would have been delicious if I didn't need something more substantial. I think we ended up at the British version of Subway, which, hilariously enough, was right up the street from a Subway restaurant. Other than the available ingredients being different, they seem about the same.
On our way to Buckingham Palace, where we got sidetracked and didn't actually go to Buckingham Palace. Whoops!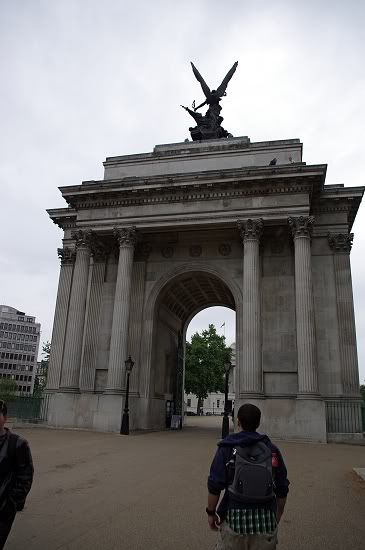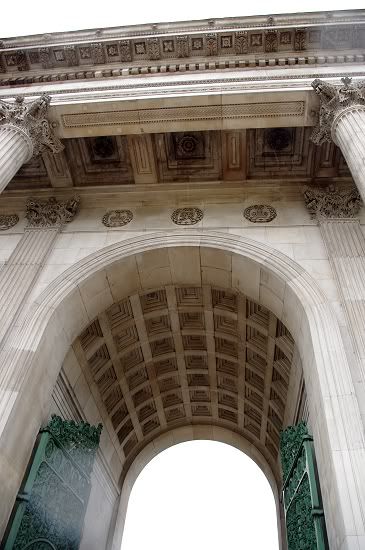 We thought about hanging out on the top of that arch, but it was kind of gross and rainy that day (you can see raindrops on the lens).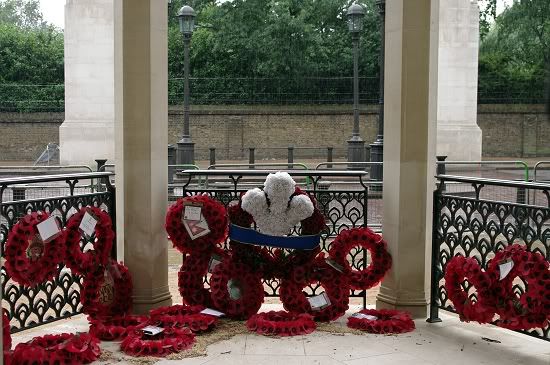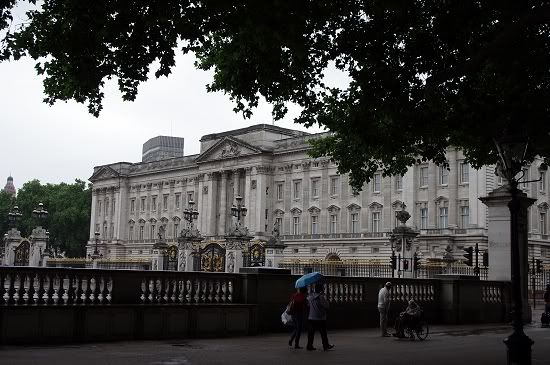 About as close as we got to Buckingham Palace that day.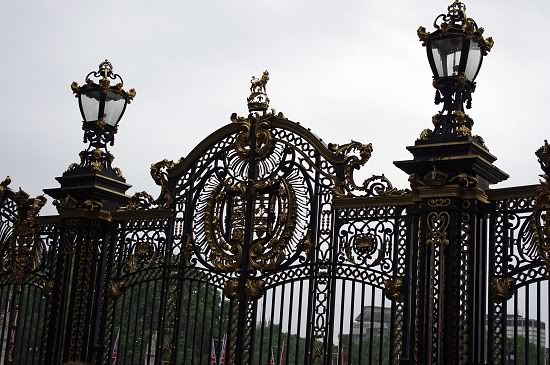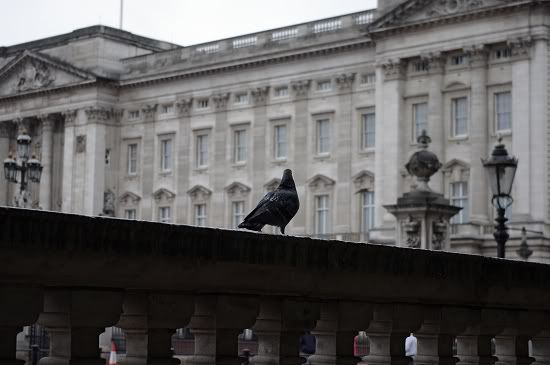 And that concludes this series of birds looking "artsy" - unfortunately, there will be more.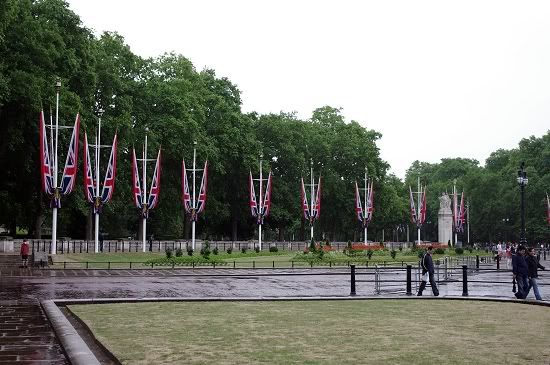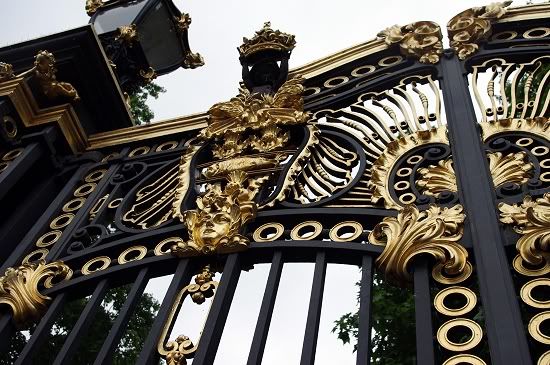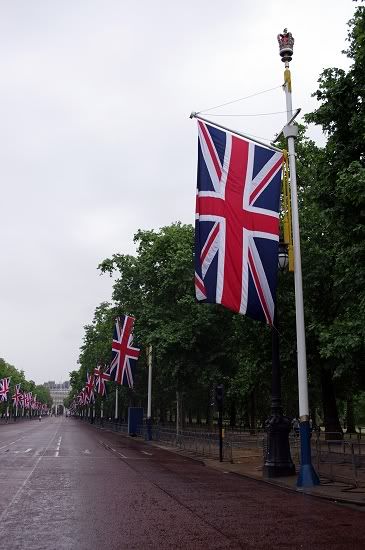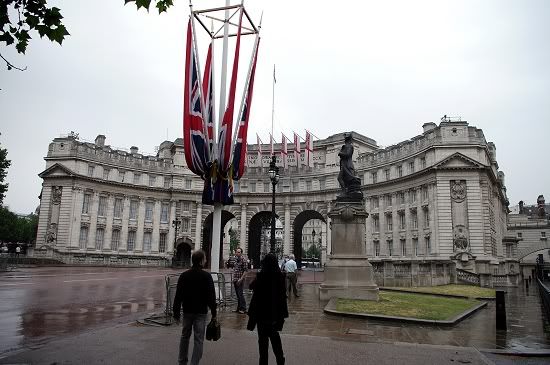 We got here and were like, "hey we should probably go to Icebar now!" So we did: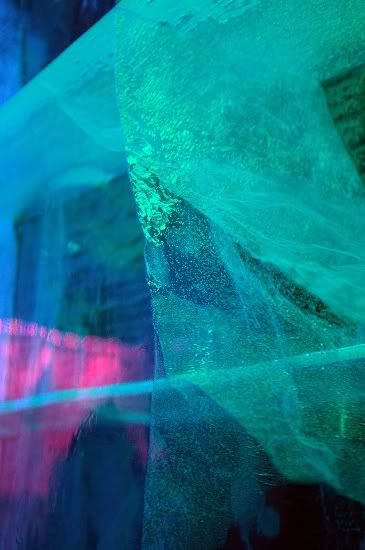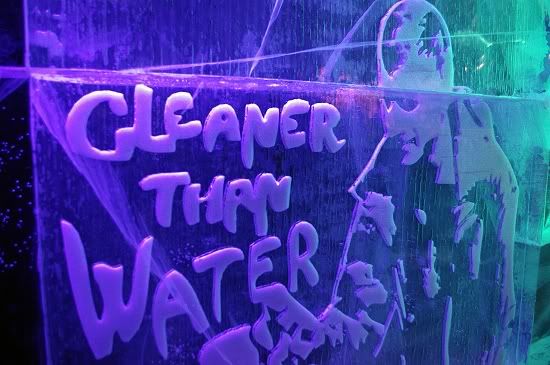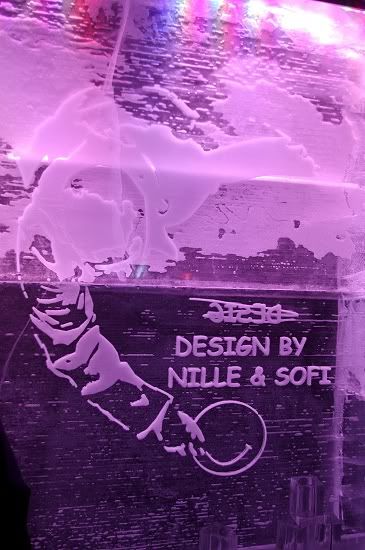 Icebar London was pretty cool (no pun intended... okay, maybe just a little). It is a bar... encased in ice! In case you couldn't tell. They had ice glasses for your fruity drinks. And yes, they give you giant coats with gloves since it's about -5°C (23°F). They gave us 40 minutes to hang out and drink, which is roughly the amount of time it takes to get sick of being in that room (it's very small. And, you know, cold).
Before that we went to a nearby restaurant that was sort of buffet-style but with much healthier and much more delicious food. You shoved whatever food you wanted on your plate, and then they charged you by the ounce, I think. A bit pricey but totally worth it!
While we were wandering back to our hostel, we saw some other stuff: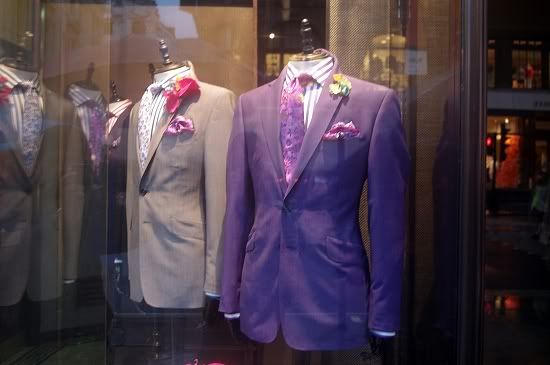 Purple suits seem to be a thing there, since this definitely wasn't the only window display I saw that had one.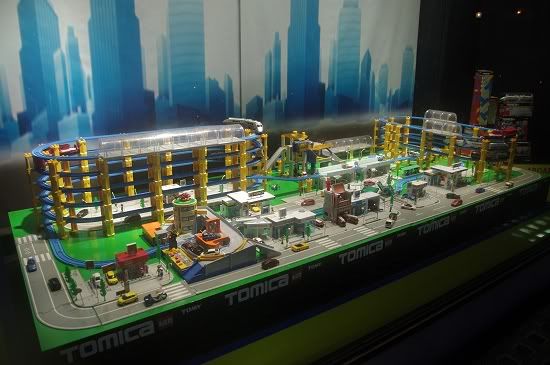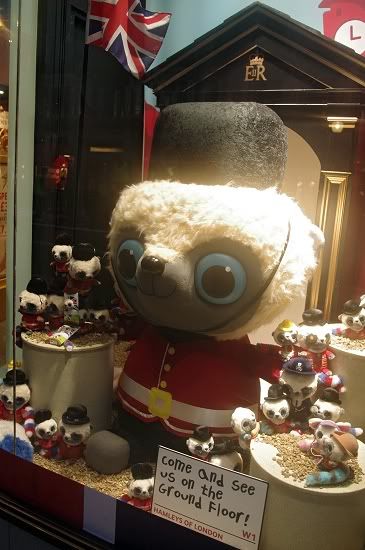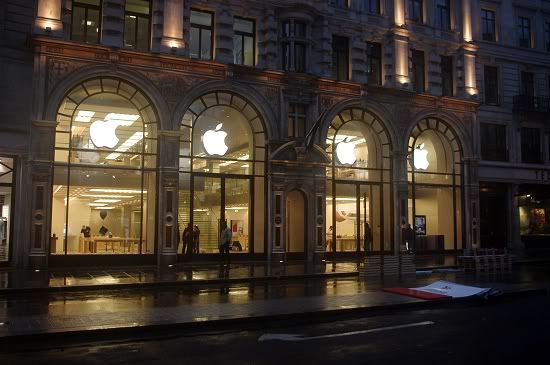 This is, without a doubt, the largest Apple store I have ever seen.
Day three of our adventure started off with the Tate Modern, which was so amazing I can't really get it across in photographs (I'm still going to try). Here comes a flood of photos since I had to take pictures of every other piece of art in there.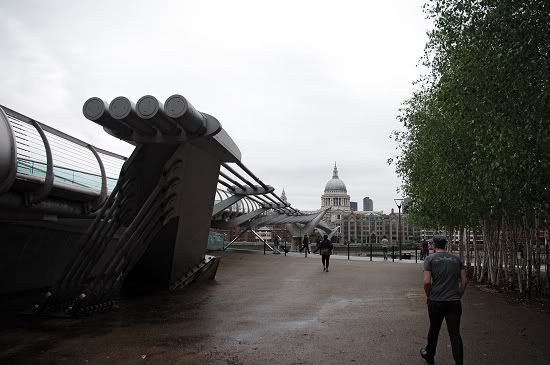 There was this awesome bridge that went over the river! So many awesome bridges in London (hint: we saw more).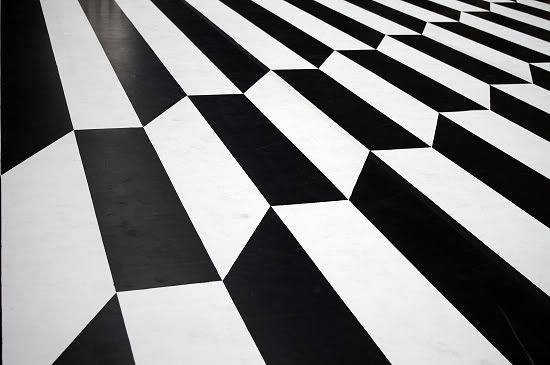 On the floor near the entrance to the Tate Modern.
Francis Picabla, Portrait of a Doctor
Leonor Fini, Little Hermit Sphinx
Max Ernst, The Entire City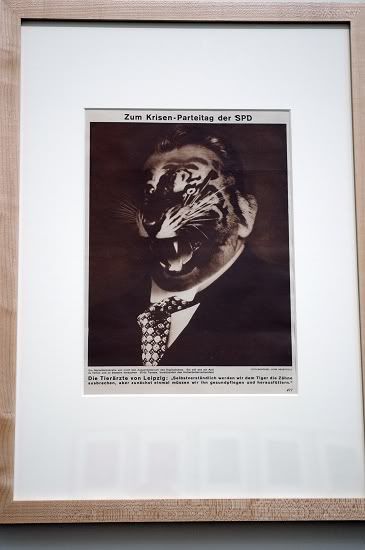 Before there was Photoshop, there was John Heartfield.
If you can't already tell, I really like his work.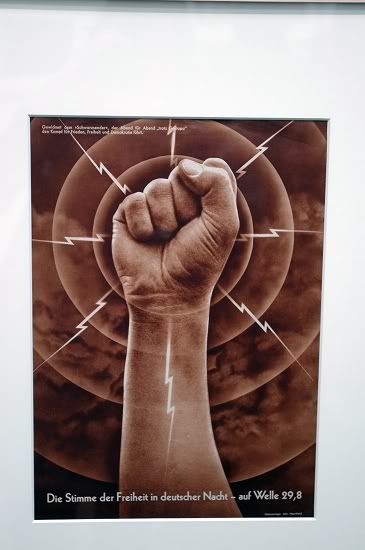 I was also too lazy to crop these appropriately. With over a thousand pictures to get through and only so much time, I kind of stopped caring about making them look nice.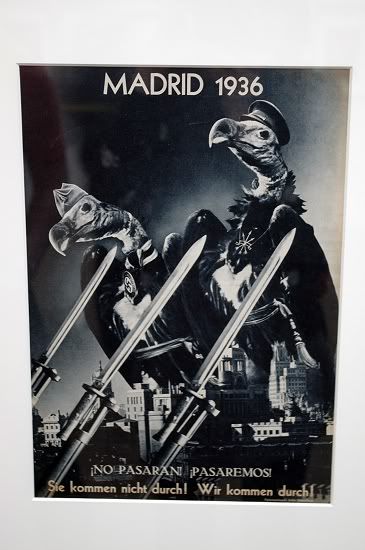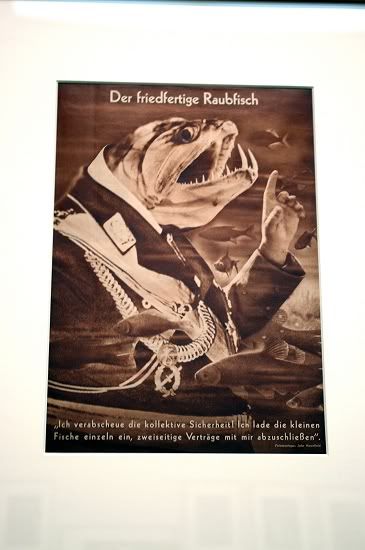 If you know me at all you can probably tell why I like his stuff so much :) (and no, it's not just that he used pictures of animals sometimes, haha). He had a lot of other great pieces, too, though. There was no way I could have gotten pictures of them all since these were in an entire room full of his work.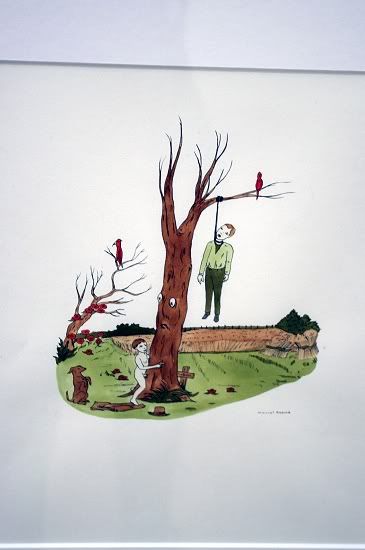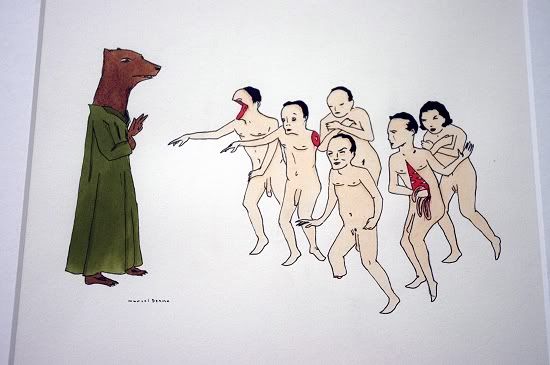 Marcel Dzama is a weird dude, though you can definitely see how his work resonates with other artists (musicians, too) working today, I think. Not that he isn't still doing stuff, himself.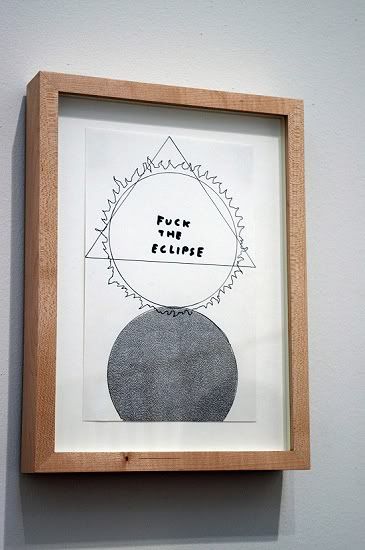 This is by a dude named David Shrigley. For some reason it made me laugh even though I don't think it's supposed to be funny. Or maybe it is. It's modern art! It can be anything.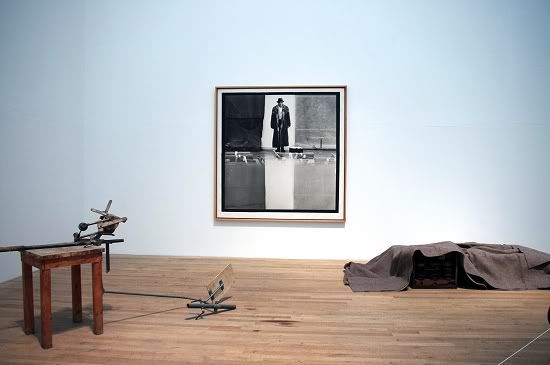 This is by Joseph Beuys, though I forgot the title of it (if it had one).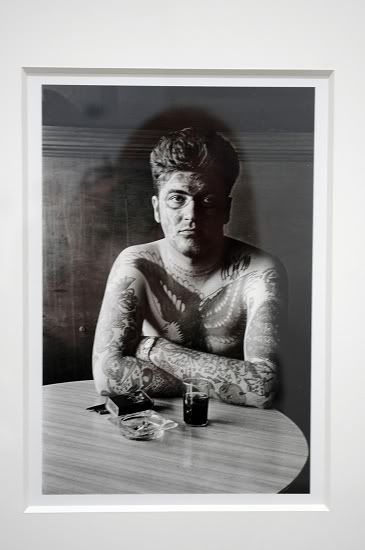 Some Diane Arbus. These were a bit hard to photograph because of the glare, but her work is well known/documented enough that a Google image search should turn up something useful if you were looking for better pictures.
Asger Jorn, The Timid Proud One. No idea what's going on here, but I like it.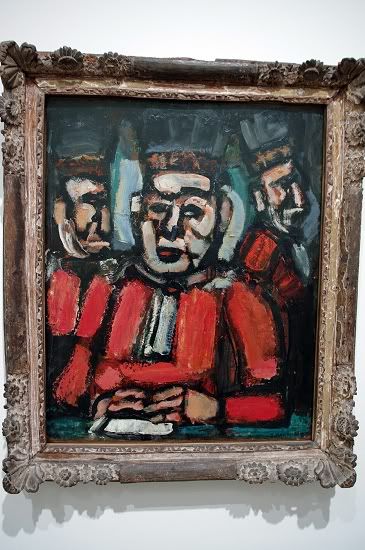 Georges Rouault, The Three Judges
Wassily Kandinsky, Lake Starnberg. I love the way Kandinsky uses lines, shapes, and color, even if I don't always care for how chaotic his well-known pieces are. His crazy colorful landscapes are more interesting to me for some reason. Probably for the same reason I tend to like slower, more mellow songs (for anyone who doesn't know, Kandinsky's work was highly influenced by his love of music. He most likely had synaesthesia and theorized that certain notes/chords corresponded to certain colors, among other things). I guess whatever he was listening to when he painted all the crazy ones doesn't do it for me, though I still think they're cool. They don't all grab me like this piece in particular does. Looking at it makes me really happy. I don't know how you could look at this and NOT feel that (except that this photo kind of sucks. I wish I had gotten a better one).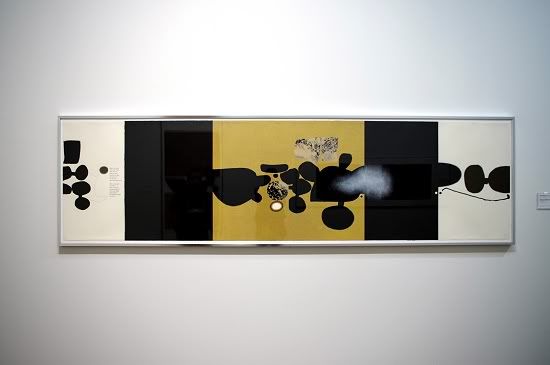 These three are by a dude named Victor Pasmore. Never heard of him before, but I think these are pretty awesome so I'm gonna have to look him up.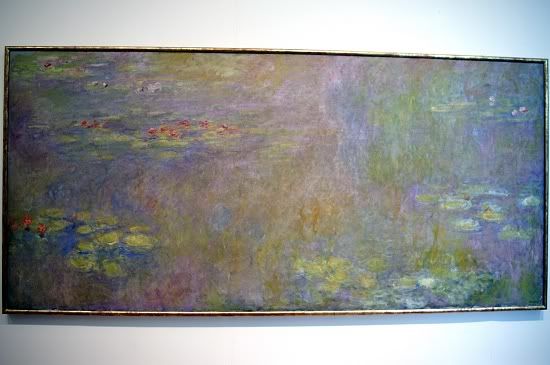 Some of Monet's water lilies.
Maria Helena Vieira da Silva, The Corridor.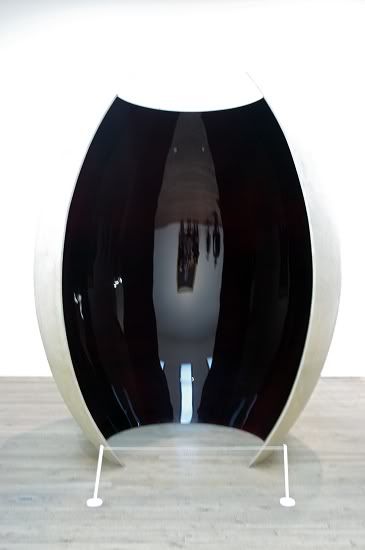 This thing was neat.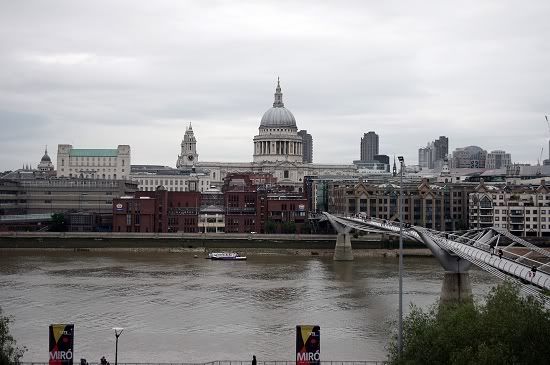 There was a balcony area that looked out over the river, so we took a break from art and looked at this for a bit.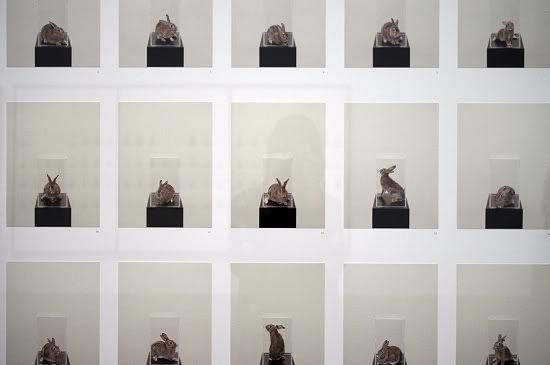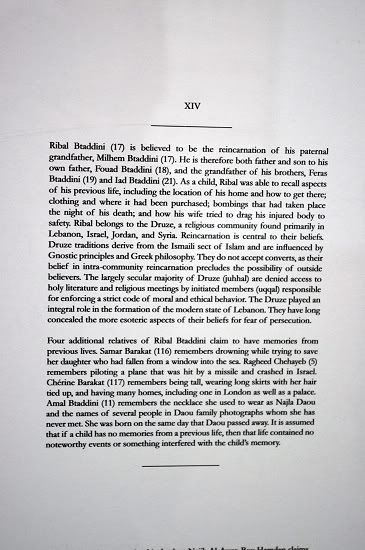 All of these are part of an exhibition by Taryn Simon. Her work had to do with family history/social and political history/lots of other stuff. Kind of hard to explain in detail, but she photographed all living members of a family/group of people that could be found and were allowed to be photographed (for those that were deceased/not allowed, she left a blank space), and then provided a couple short paragraphs for context. The writing I included about the family who believed in reincarnation went with a series of photographs of the same 4 people over and over - their pictures were used to represent other family members. The exhibition is called "A Living Man Declared Dead and Other Chapters" if you want to look it up.
Guy Tillim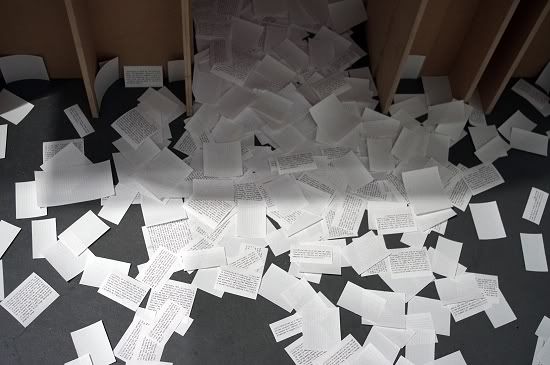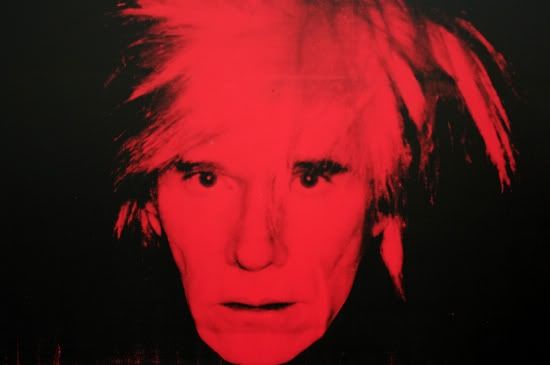 Andy Warhol looks a scream, hang him on my wall! Andy Warhol, silver screen, can't tell them apart at all!
Robert Rauschenberg, Almanac.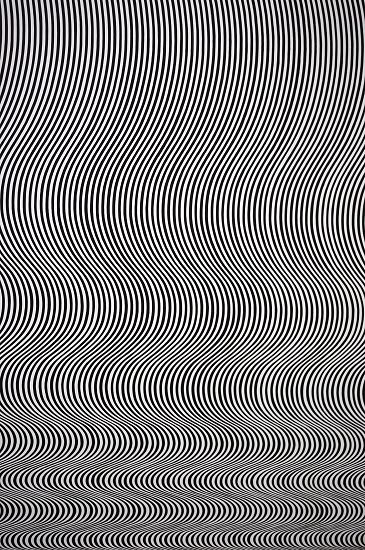 Those two are by Bridget Riley. They kind of hurt my eyes. Why did I post them? ...because I want you all to suffer with me. They're actually less headache-inducing in real life because they're huge. That second one is pretty nice to just sit and look at for awhile. Just not in tiny pixel format.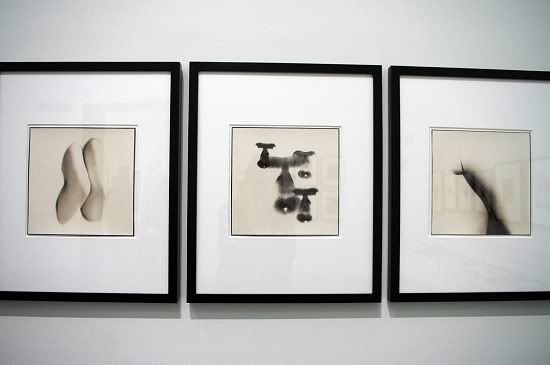 Some photos by Kiyohiko Komura. There were a whole bunch of little photos done by Japanese photographers in this room. These are from 1950 - their aesthetic is so different from what was happening in the west at the time.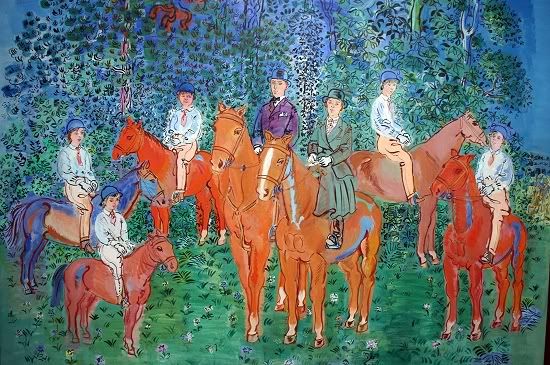 Raoul Dufy, The Kessler Family on Horseback. I don't really care for this painting, but it's kind of hilarious how awkward everyone looks in it so here you go!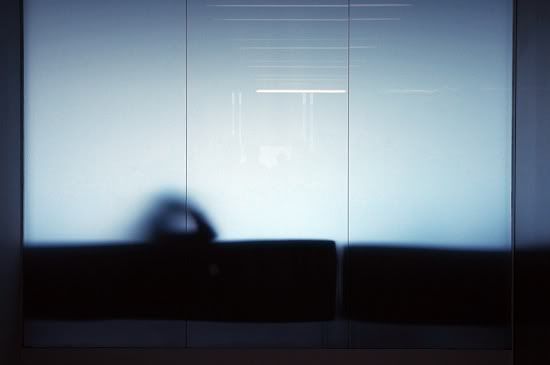 POLICE BOAT. SPEEDING OFF TOWARDS JUSTICE. Wait, that sounds a bit too American for these guys. ...POLICE RAFT. HEADING OFF TO INSTALL MORE CCTV CAMERAS. There we go.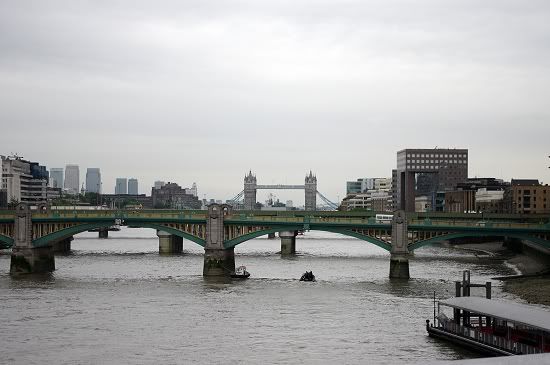 I actually thought that bridge in the far background was the London Bridge for the longest time, until I looked it up and realized the London Bridge is boring. They should just call the cool one London Bridge. Tower Bridge is a boring name for something so cool.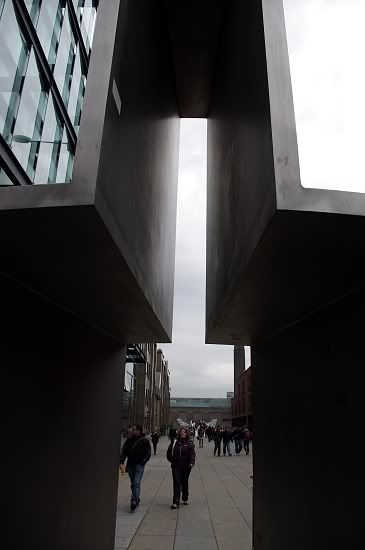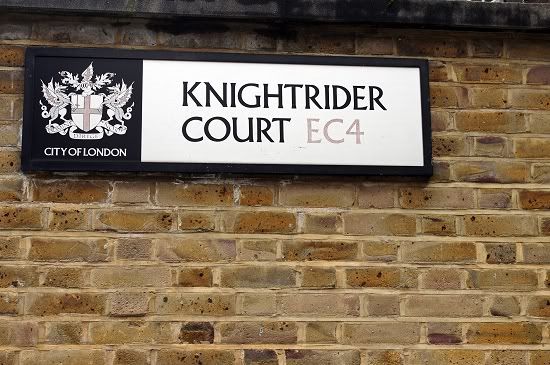 hee hee.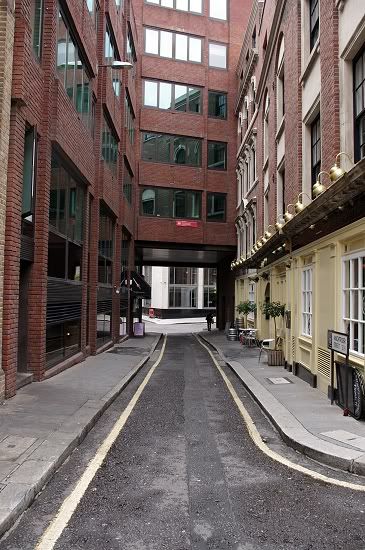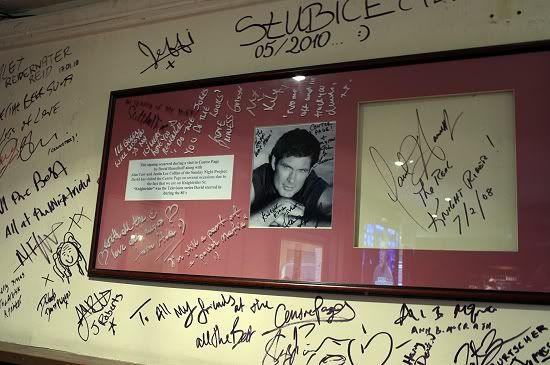 Why yes, that is The Hoff and yes, it might have to do with the fact that the restaurant we went to was on Knightrider Court.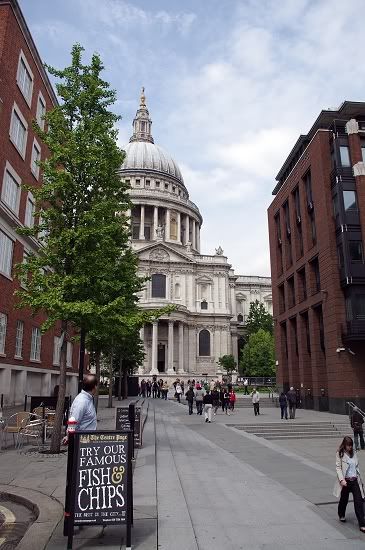 Every place we went to that advertised FAMOUS FISH AND CHIPS never had it for cheap. It is just fried fish and potato strips, come on.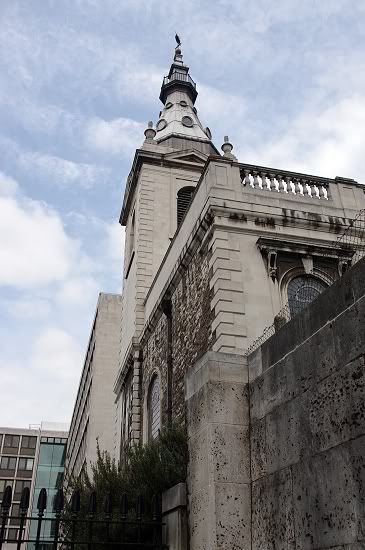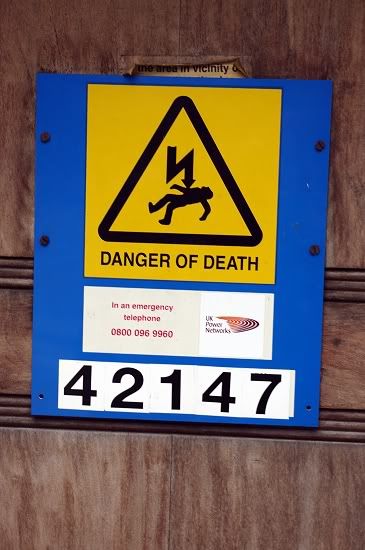 Danger of death from WHAT? Giant deadly arrows?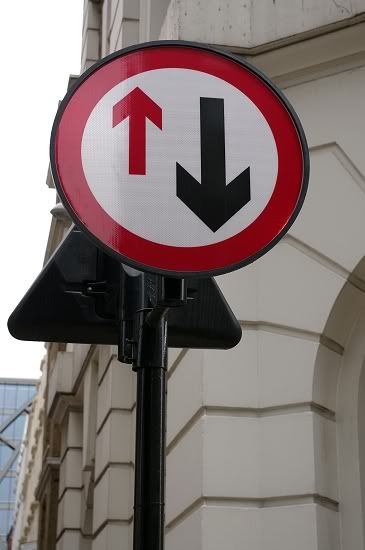 Oh BALLS they're after us!
:)
Walking to the Tower Bridge.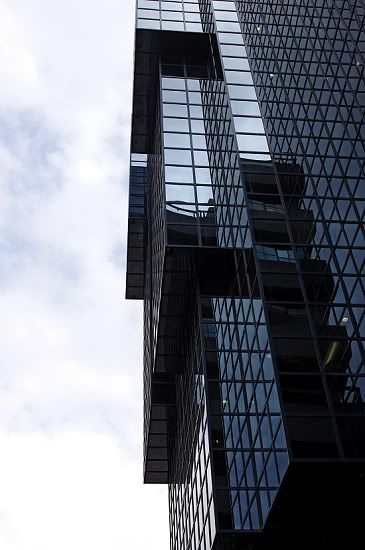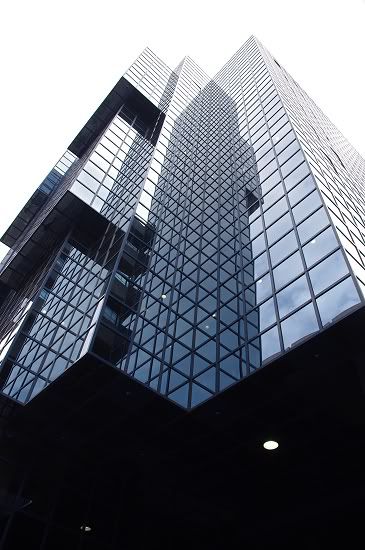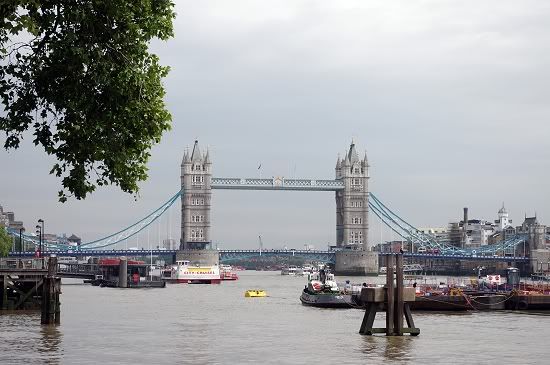 Gettin' closer
Aaaand we're... wait, this is just some dumb castle.
Ok, the Tower of London is actually awesome and not dumb.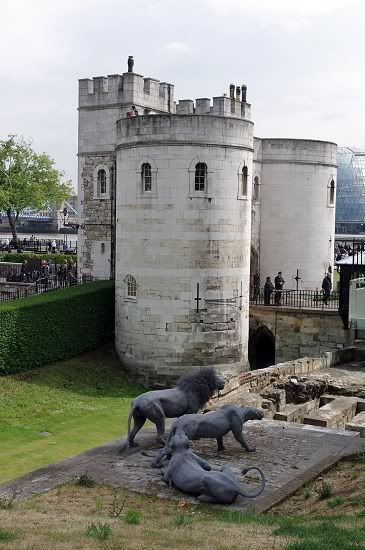 Creepy ghost-eyed lions hanging around, keeping people out of the castle.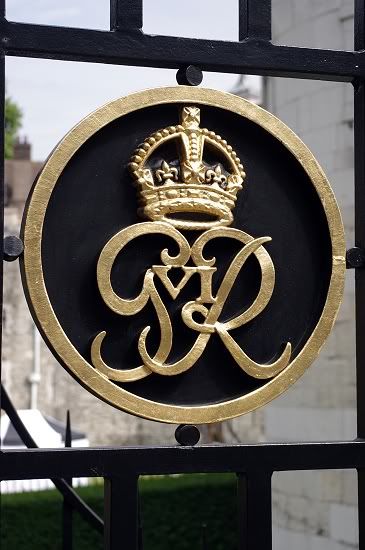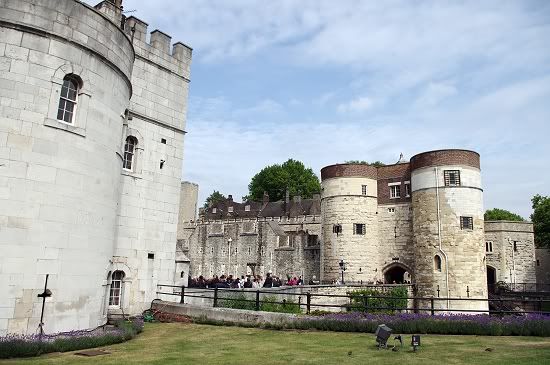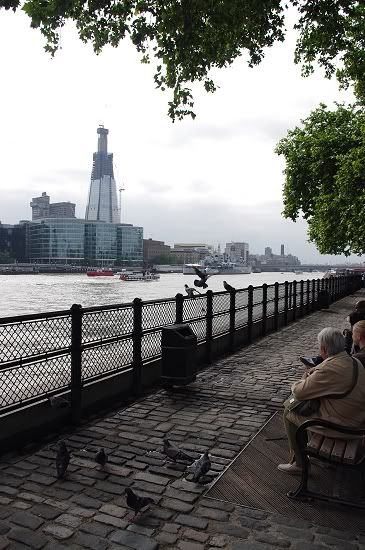 Bird break!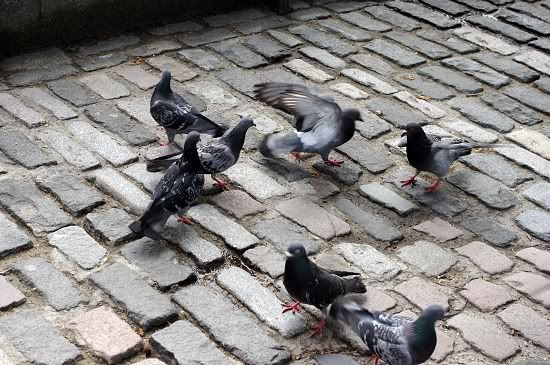 It's like a giant mouth eating every car that drives by.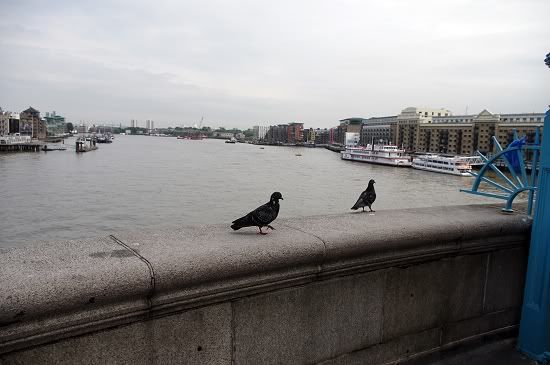 Bird break 2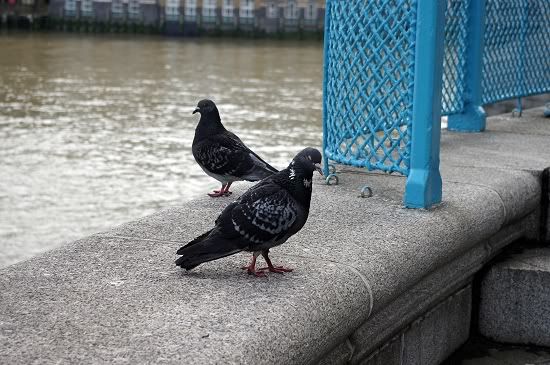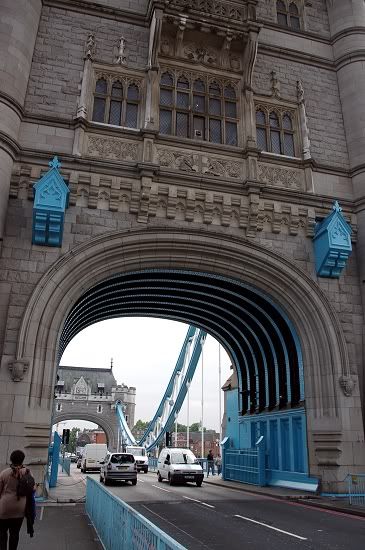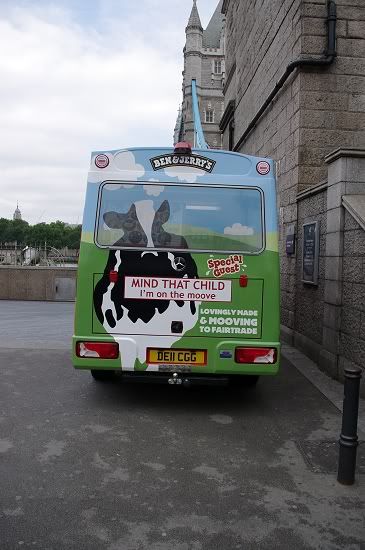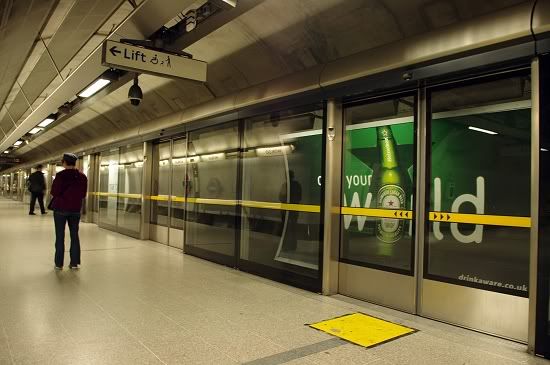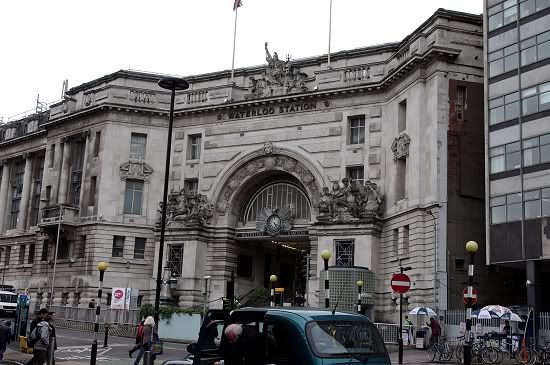 Posting this photo of Waterloo station to commemorate when we got stuck here at rush hour while some trains weren't running and it was the most horrifyingly cramped experience I've had with public transport or possibly anything, ever.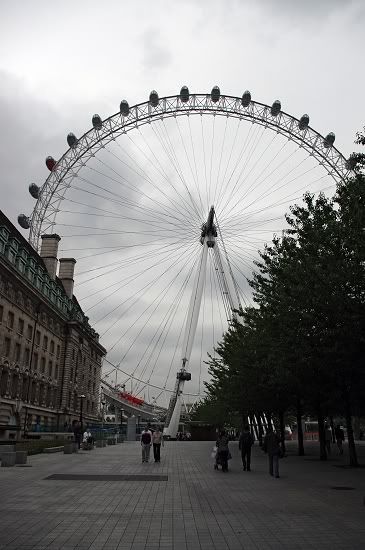 Next, a ride on the London Eye. They showed us a short movie about it beforehand that involved 3D glasses and random things being spewed at us to make it feel more "real". It's interactive! The actual London Eye experience was so far removed from what the film tried to portray. I don't know, I guess you have to get people really excited about the fact that they just spent 18 pounds to ride a giant ferris wheel.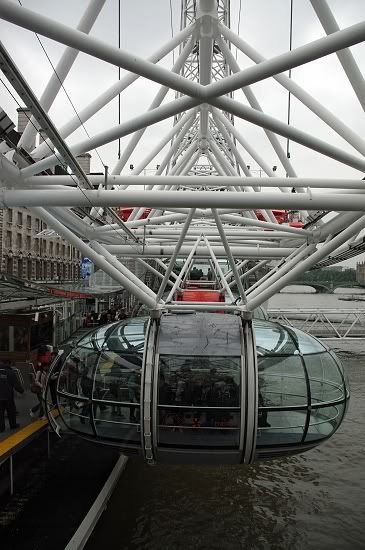 Heeere we go.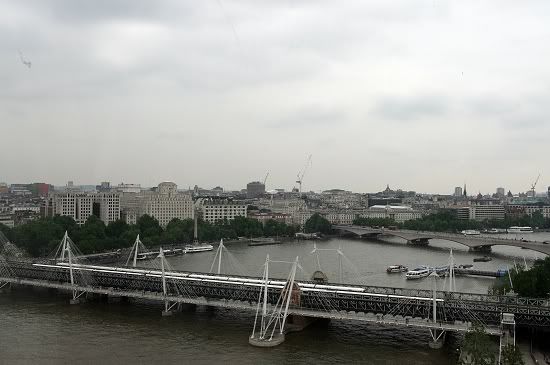 Okay seriously I could not figure out what this thing was supposed to be other than creepy as hell. It's like a cow tent? Except apparently one of its legs isn't inflated. I don't know. I don't know anything anymore after looking at this.
Yep, that's a big ol' Ben.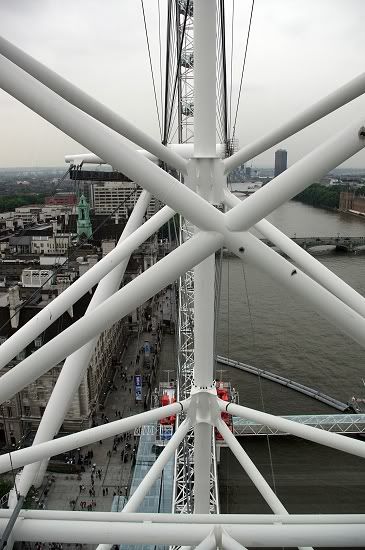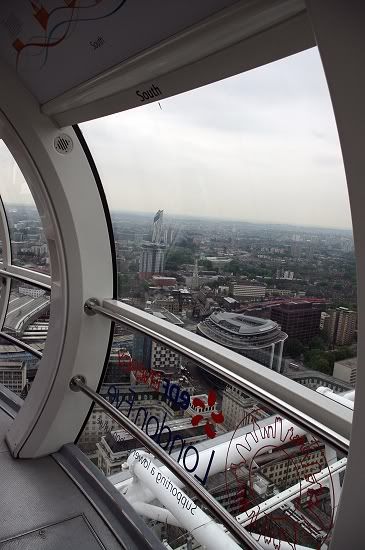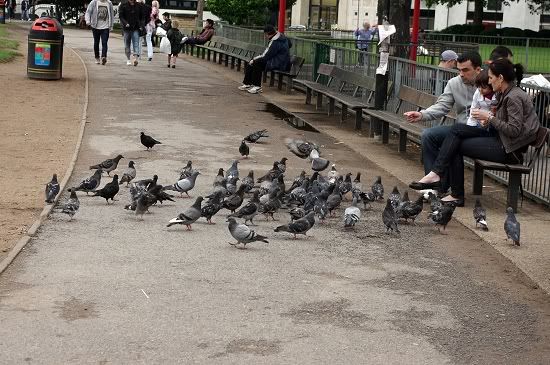 Bird break 3: the feeding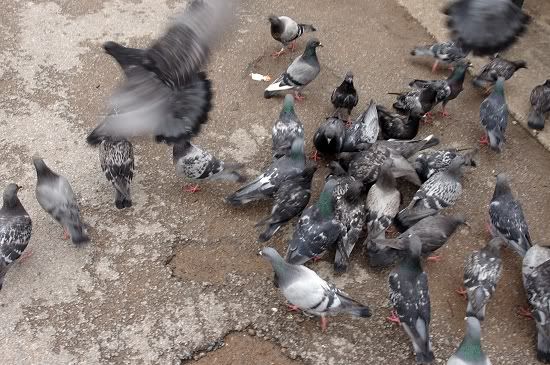 aaaahh AAAAHHHH
At this point we met up with Nicky and went to this bar:
(I did not see any drugs or drug use in this place so I'm pretty sure that sign is a lie)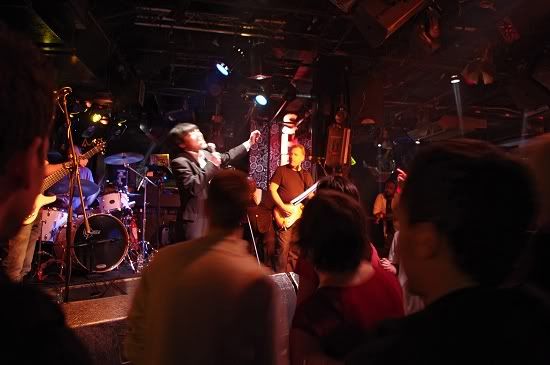 They had karaoke with a live band. This guy was a regular - he was so excited to sing "Chasing Cars" by Snow Patrol that he did a great job and everyone loved it!
Man, I don't even want to think about how long it took to write this entry. Next one will be about Paris.
Comments {2}