London + Paris part 1
I should be asleep right now, but I caught some kind of plague that made me tired as hell. Couldn't get up at all for about 6 hours even though I tried! I really wanted to eat dinner, just not at 2 AM. Oh well.
Anyway, I'm slowly going through all of the photos I took (over 1000, though I've ended up deleting a bunch of them since lots were re-takes or just extra shots in case the first one turned out poorly). Here's a bunch of photos from our first day in London: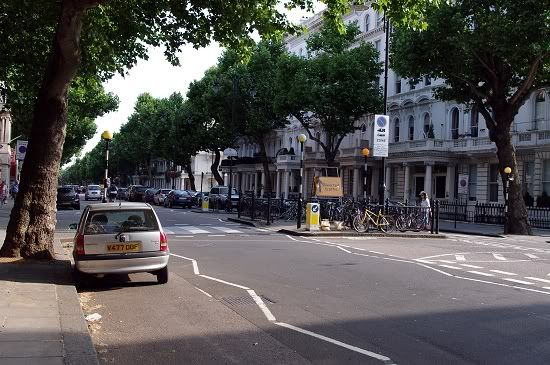 This was the street our hostel (Astor Hyde park) was on. As the name implies, it was indeed very close to Hyde Park!
An example of the weird forced politeness/direction I saw in London: Lots of the crosswalks told you which way to look for cars. Helpful to me, as a tourist, which I assume is why they're there because I can't imagine anyone living in London would actually need to take note of this.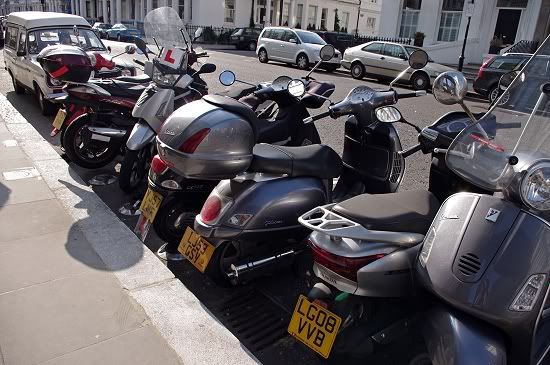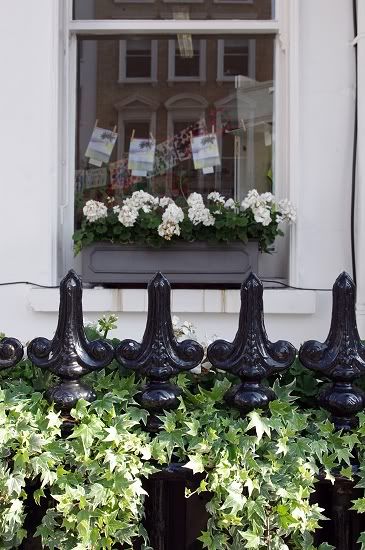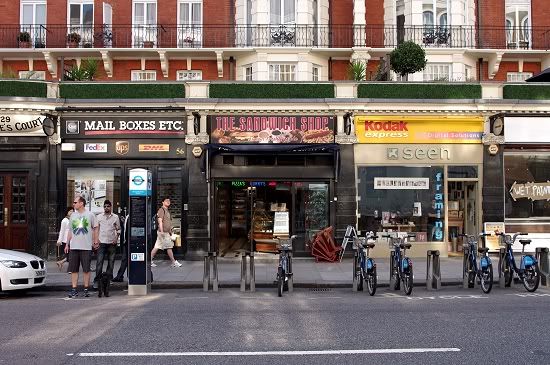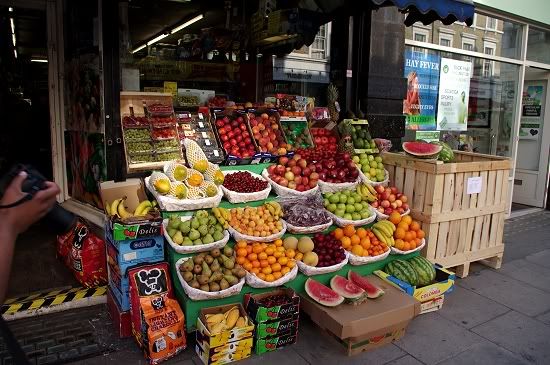 Lots of pictures on this day that were mostly just "oh my god THINGS" since I was excited about being in another country. The same happened my first full day in Paris, haha.
The first place we went to eat! While we were looking at the menu, a Scottish dude around our ages came up and started talking to us. We had a pretty decent conversation with him (and he even joined us for lunch later).
Courtney and I got falafel burgers while Rudy got steak and ale pie at the suggestion of our new acquaintance. He said it was delicious, though I didn't actually try any to confirm that for myself, haha.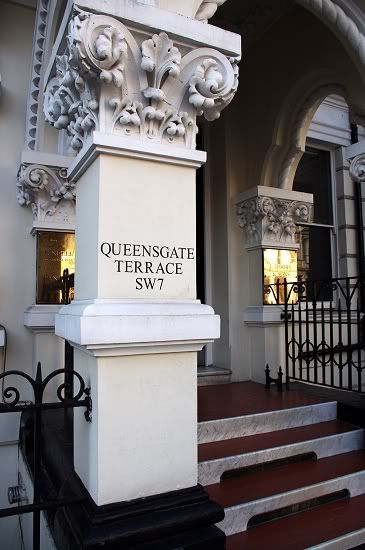 Still amazed at how different the architecture in general is there. Everything here seems really ugly in comparison (this goes for the people, too, though I think part of that is just a fact of living in rural midwestern America).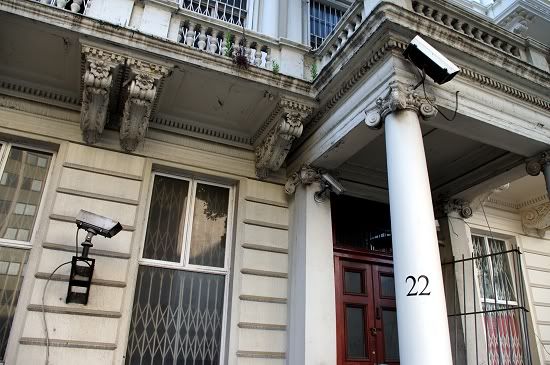 CCTV IS WATCHING YOU PEE. Well, I didn't see any cameras in any bathrooms. But I wouldn't be surprised given how many cameras there are everywhere else.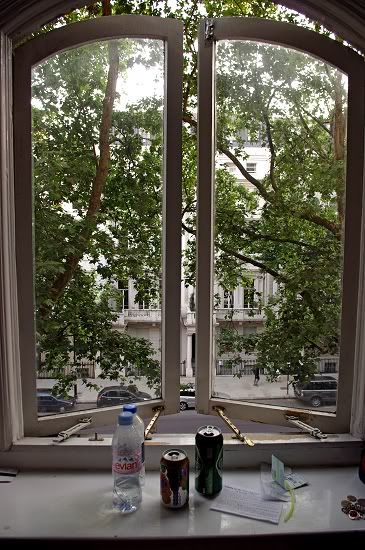 The view out the window from Astor Hyde Park. Staying here was a bit awkward since we assumed we'd all be staying in the same room (we tried to book a private room), but they split us up anyway. Courtney and I ended up staying with an American girl and some dudes from Australia (eventually some other people rotated in and out of the room, too).
The Australians were kind of awkward. There was one day where Courtney said one of them took his jeans off to change and the smell of rancid moldy fart hit the room like a ton of bricks (which was hilarious to me, not being awake at the time it happened). We figured they'd leave and that'd be the end of it, but the day they left I woke up to that same guy sniffing his pants and going, "I'm not taking those back with me." Yeah. No idea what he ended up doing with them since the pants were gone when he was. Here's hoping he burned them.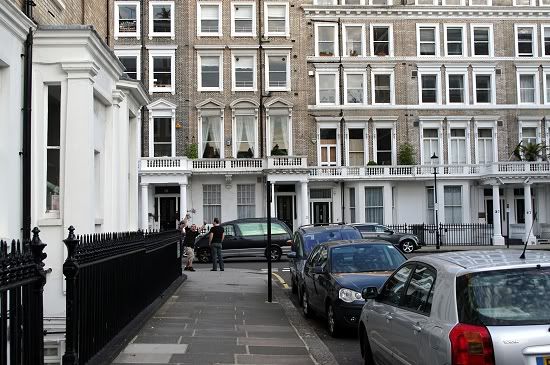 More architecture. I can't imagine living here and walking by something like this every day.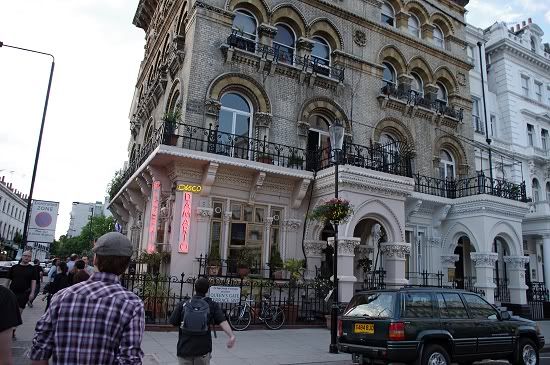 Rudy's main "goal" for the trip was Disco, so obviously when he saw this sign it was like magic happening everywhere.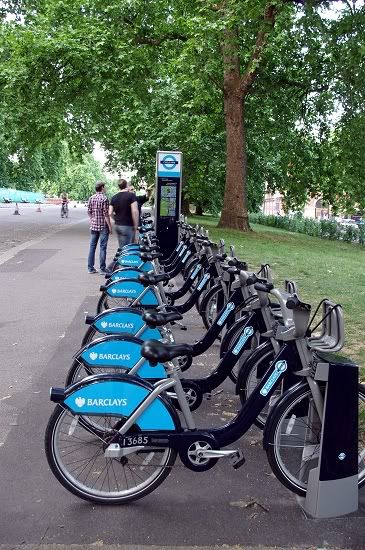 These bikes were pretty awesome - you could rent them for free for half an hour, but after that it would cost a pound just to have it for the entire day or something. They had tons of these bike stations all over London and you could return the bikes to any station you wanted. Apparently they were added to help keep traffic moving on the sidewalks and stuff. It's a really smart idea! More places should have that.
Prince Albert memorial! This thing was pretty neat.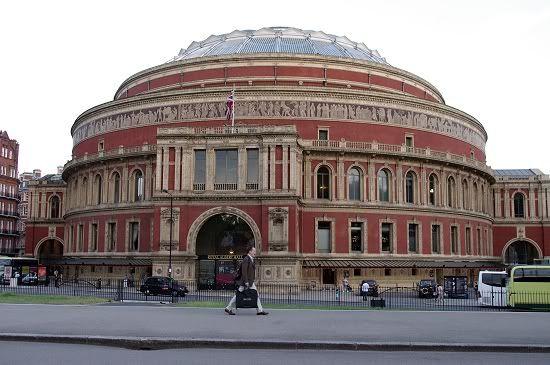 And right across from it was the Royal Albert Hall.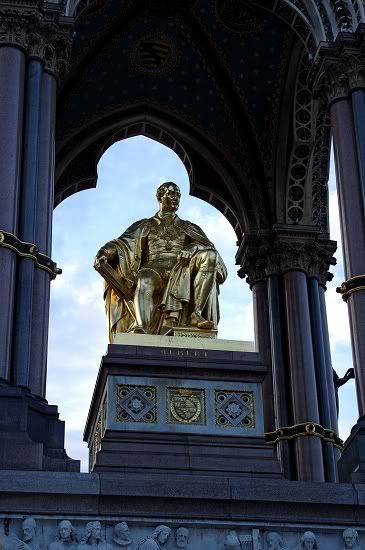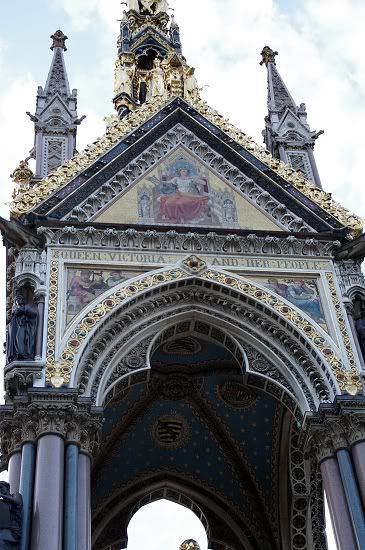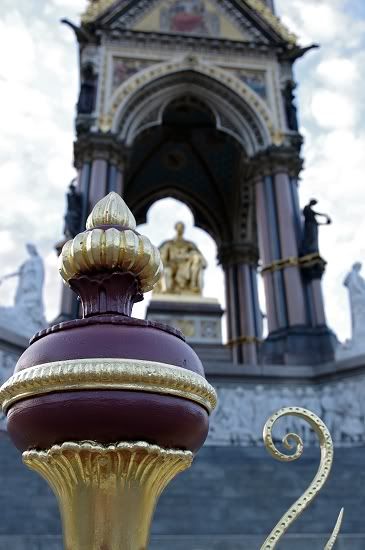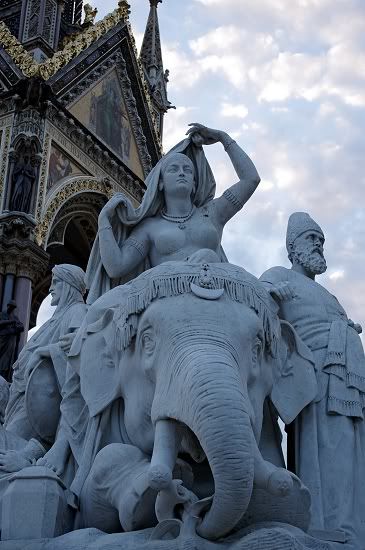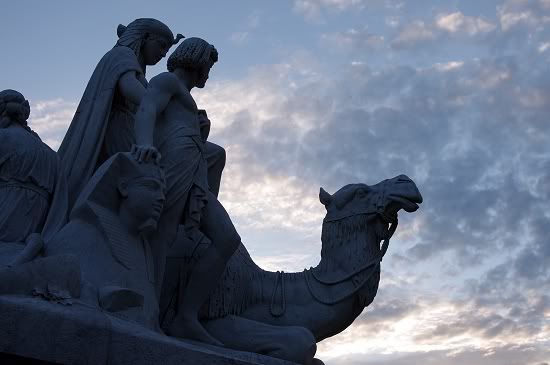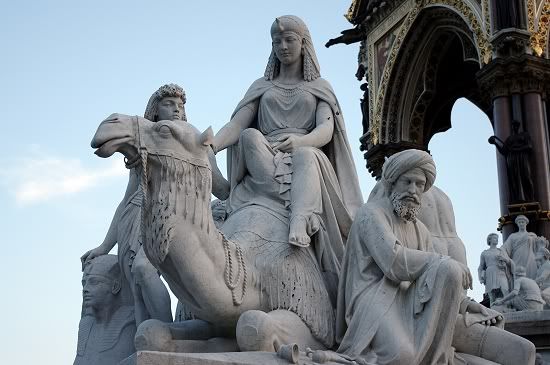 My camera was having trouble reconciling the cloudiness with the fact that it was still light outside, which is why the sky is blown out/the colors are off in a lot of these.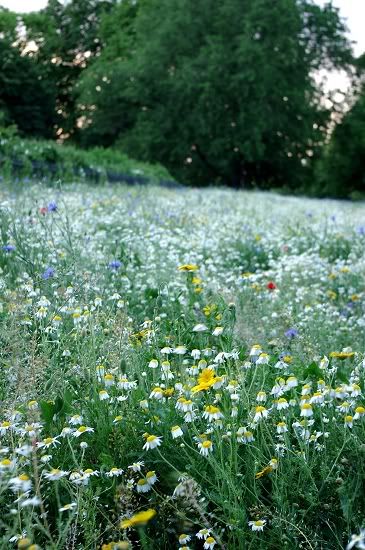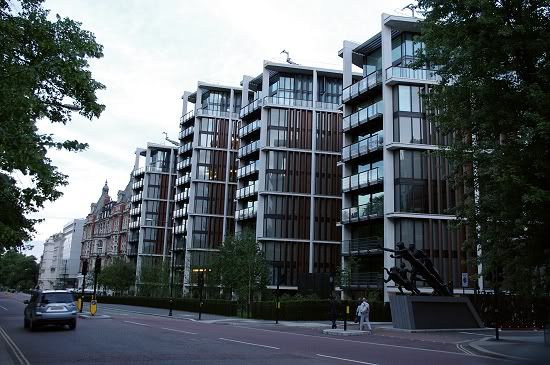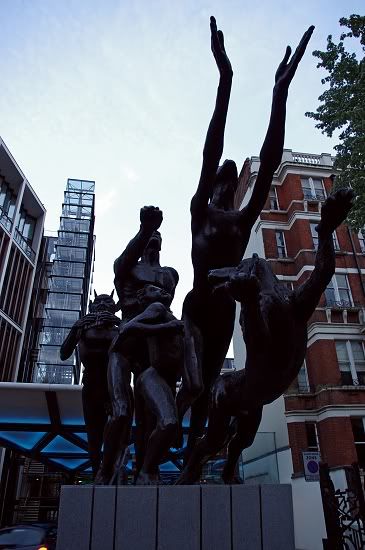 yeah lens distortion!!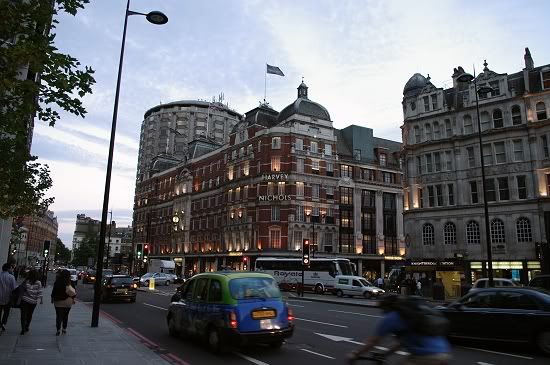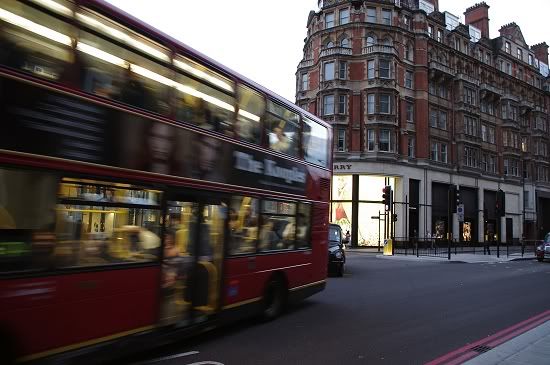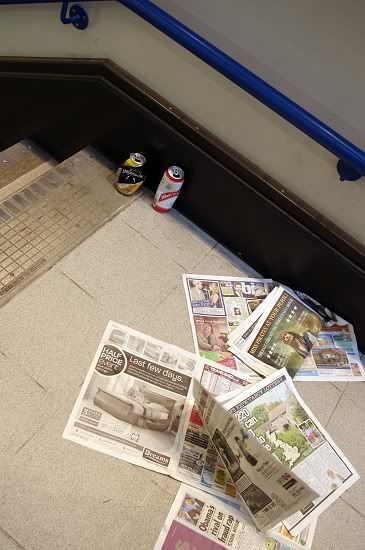 The only possible evidence of homeless people I saw in London.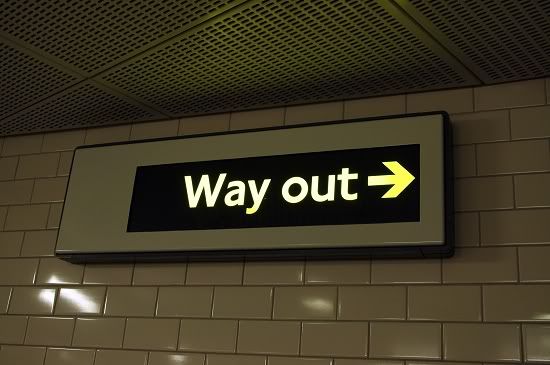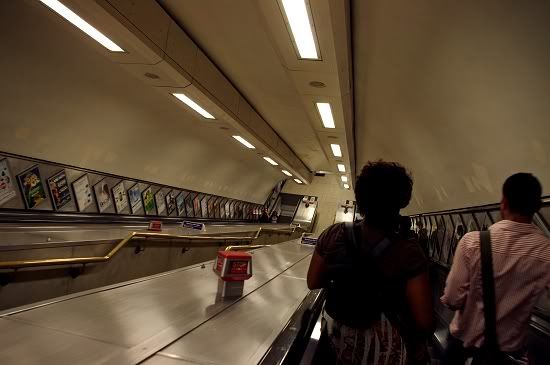 Imagine going up and down these long tubes of escalators multiple times a day! Because that's totally what we did. Usually just to get in or out of the underground you had to get on two sets of these, and occasionally you'd have to get on one set just to switch trains.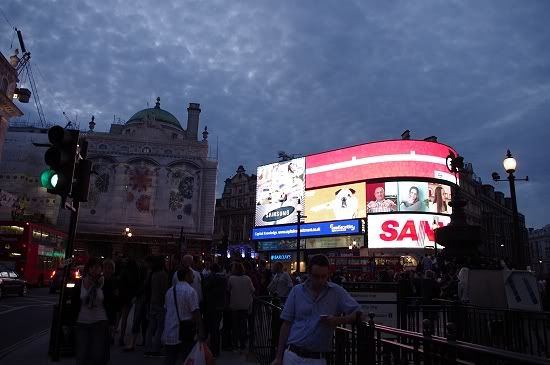 Piccadilly Circus. We had no idea what we were doing at this point and just wandered to a place that sounded cool. Clearly we made the right choice.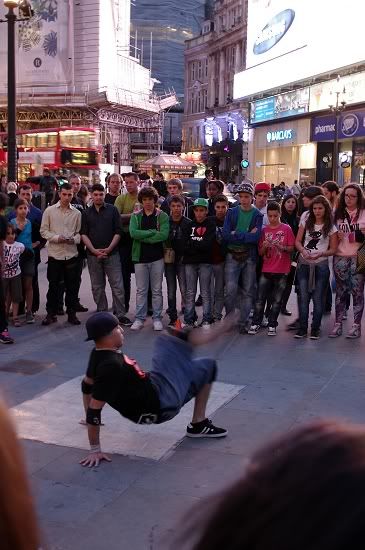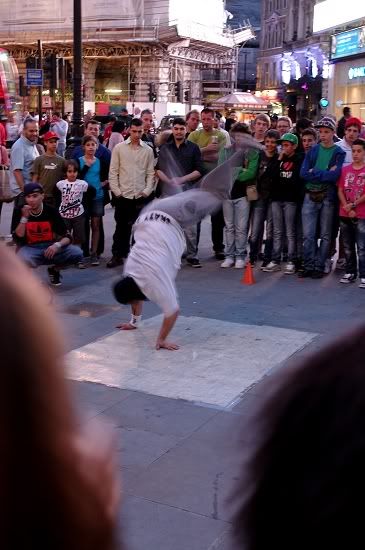 Break dancing in London!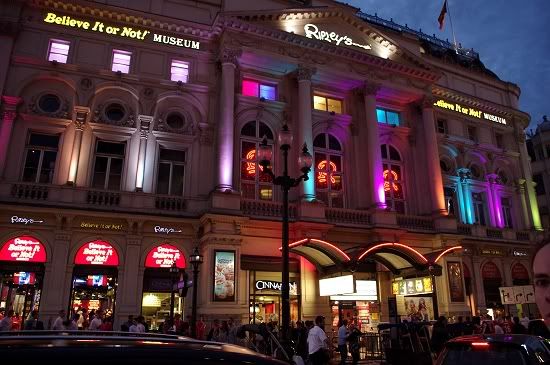 I had no idea they had a giant Ripley's here. I didn't really care about going inside it since I've been to smaller ones elsewhere, but the building itself is pretty interesting.
So glad I got a new camera before I left. This one performs great in low light! I doubt I would have been able to get these shots with my old camera. Yes, I realize I wrote this under a really crappy photo, but I didn't have anything to say about it, so... there you go!
We ended up wandering into this weird mall thing after getting snacks.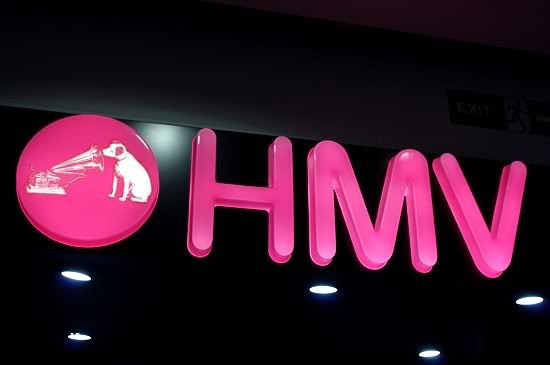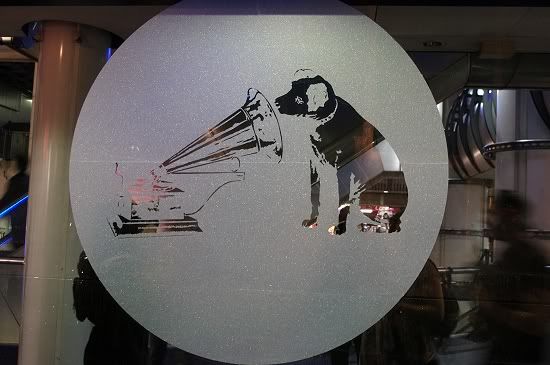 I love that logo. Mostly because I remember it from old RCA ads, though I guess that dog's been used for a lot of recording arts stuff.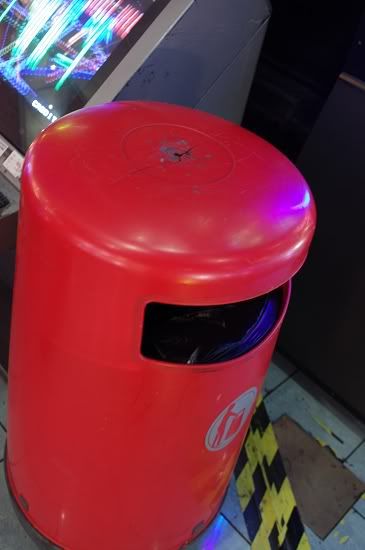 So remember when I said we got snacks? Finding a place to put the trash leftover from said snacks was the most trying thing ever. What is up with the lack of wastebaskets in London? I saw them out on the streets fairly often, but there were never any indoors.
At one point I was buying an umbrella from Boots at the King's Cross train station because I left my good one in a bathroom somewhere on accident, then bought a crappy 3 pound one for temporary use. Apparently it was extremely temporary since it broke on me after about 20 minutes. All it took was a slightly stronger gust of wind than usual. I asked the cashier if there were any trash cans so I could throw the broken umbrella away, and she said there weren't any outside the store, but she could throw it away for me in the trash can behind the register. NO TRASH CANS. IN THE ENTIRE TRAIN STATION. I didn't get any photos of King's Cross, but it's such a massive station that I can't believe there wouldn't be ANY trash cans. I didn't see any, though, so I guess she was telling the truth.
That was a huge paragraph about trash cans, but it explains exactly why I had to take this photo of what is probably the only indoor trash can in London. And it was hidden inside an arcade, where no one who actually needed it would ever hope to find it.
VIDEO GAME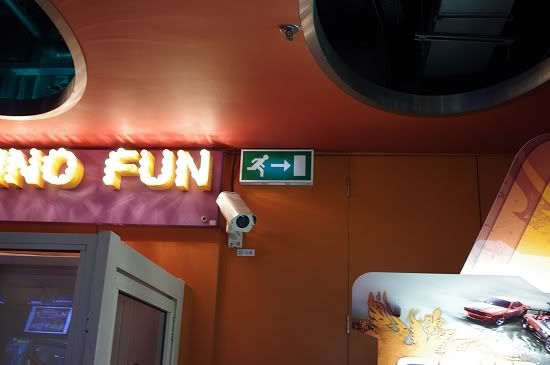 No fun: CCTV watching you suck at DDR!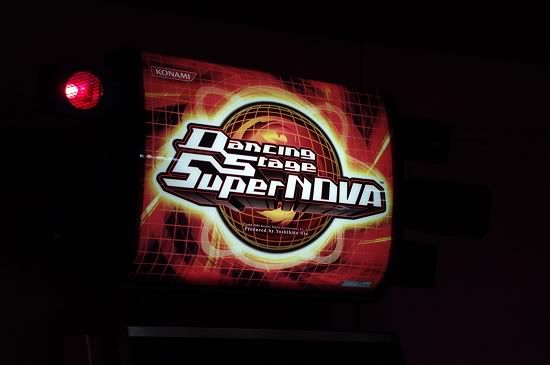 ...which is called "Dancing Stage Supernova" over there for some reason. I love the little green exit signs with the dude running, by the way. It encapsulates a person's need to leave a building RIGHT AWAY.
While Erik was playing DDR/Dancing Stage Superlongname, some little girl was mesmerized by the fact that he didn't suck at it and got all excited. It was pretty funny.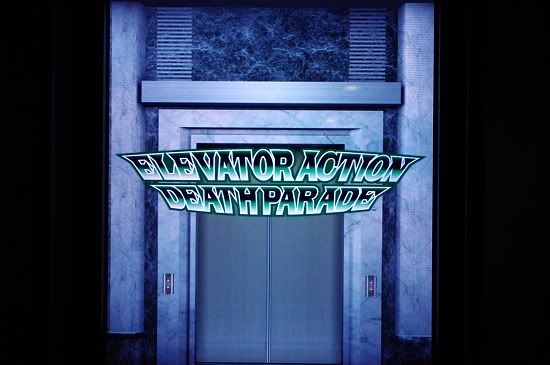 ELEVATOR ACTION DEATH PARADE. The machine even had elevator doors that opened and closed. So would have played this if I had time/change.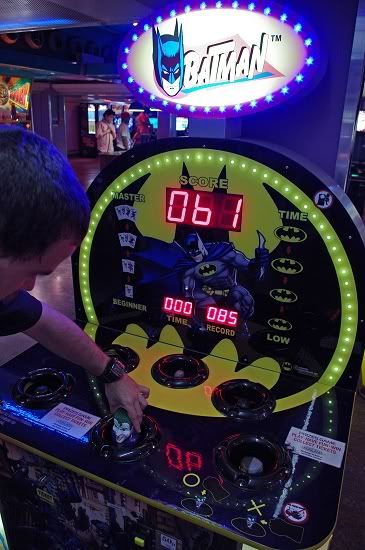 I don't think I need to explain why I took this photo.
The inside of the mall thing.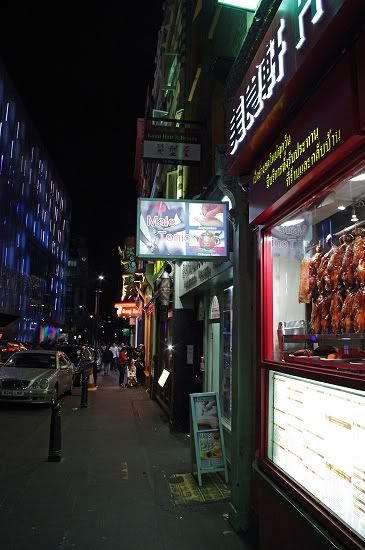 We kind of wandered into the British version of Chinatown.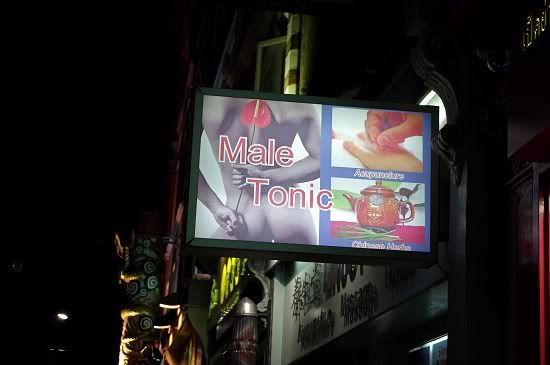 Yep, that's Chinatown, alright.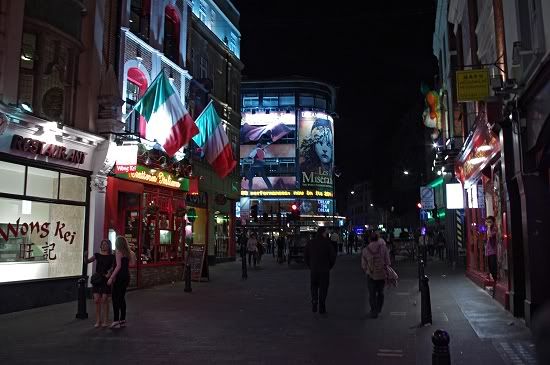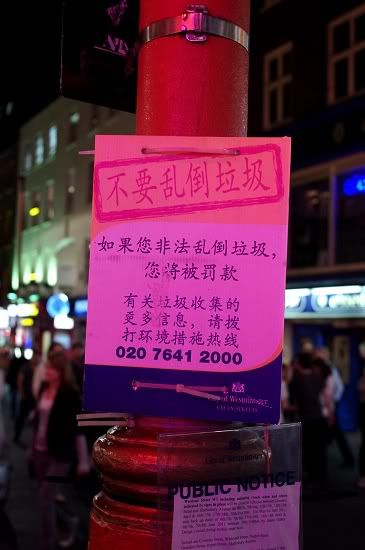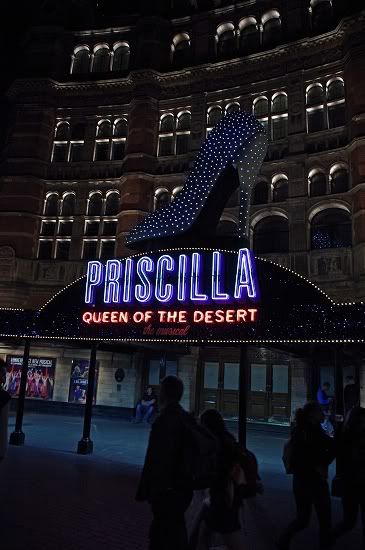 There were public urinals outside of this place (I think they were here. Or around here. Or somewhere). The dudes took great pride in using them. Obviously there are no photos of this, but I figured I should mention it for their sake.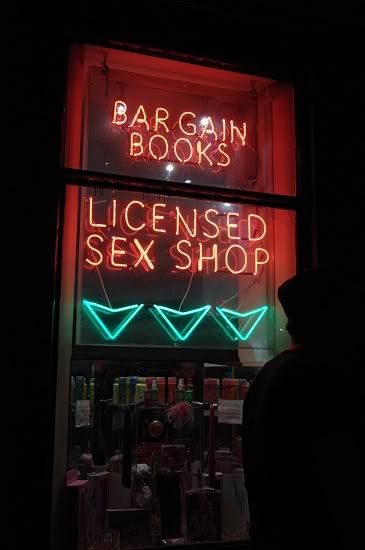 This was before we got to have a proper look around Soho. If only I had known.
Eventually the rest of the photos will go up, probably in small chunks since posting all of them at once might kill me or break LJ or something.
Comments {11}