beep
Woah, ok. Since my last update I have acquired two (well, three, though I don't think never-ending health problems are technically a 'thing') new things: A car, and a gecko.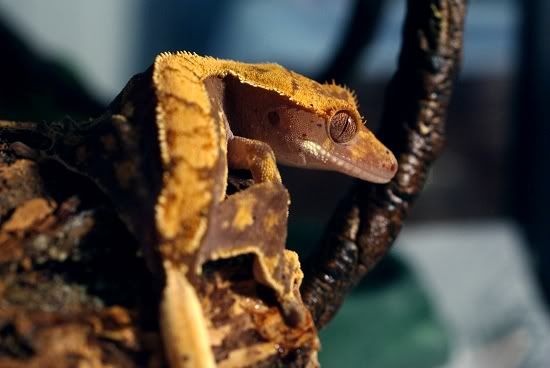 This is Rosie. She is a crested gecko, which means she comes with eyelashes (not like people eyelashes, though they do get droopy when she sleeps). Yes, a lizard with eyelashes. Hey, I didn't make this shit up!
That face.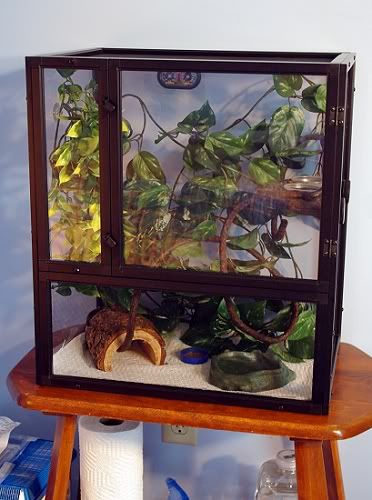 This is Rosie's box house. Eventually that bottom part will have real soil and plants when she gets bigger.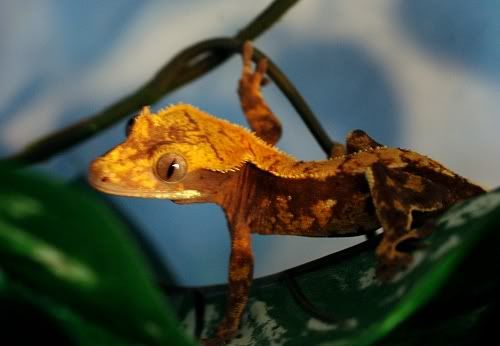 Did I mention she was small?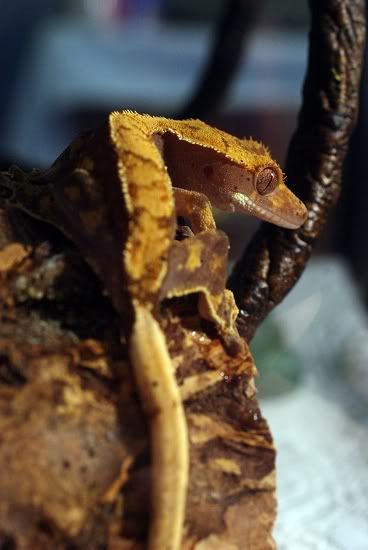 And bendy. The end of her tail actually has a grip on it (like what's on her feet) so she can use it to help her climb on things.
She doesn't like me very much, probably because I keep sticking my camera in her face and randomly turning lights on at night while she is trying to do Secret Gecko Things, which is why the white balance on all of my photos is so inconsistent. During the day she sleeps with her head sandwiched between plant leaves (I would have a photo of this if I could get one because it's kind of hilarious).
I told John I was going to name her after him since they both sleep like they're dead, but he didn't approve. He doesn't understand why anyone would want a reptile as a pet, though I guess that's not uncommon since most of the people I've mentioned it to hold the same opinion. For now, all I'll say on the subject is that after John's cat had an unstoppably gross puking session yesterday morning, I can really appreciate having a pet that's incapable of destroying everything I own.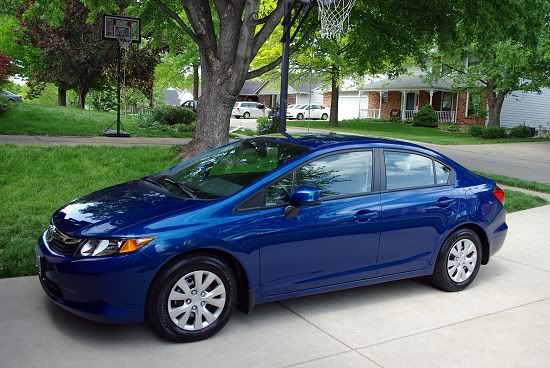 Oh yeah, and this is my new car, a 2012 Honda Civic! I'm sure writing that phrase will cause this public entry to get tons of spam comments now that LJ has essentially become an unfiltered wasteland. Anyway, after lots of test driving and talking to dealers, I ended up with this. It's AMAZING and has everything I want in a car, except for the ability to fly. Someday my flying car dreams will become a practical reality, hopefully within my lifetime. I don't care if I'm 100 years old when it happens, I'm getting a flying car.
Although it would be great if I could afford a new car on my own, I should mention this was actually a gift from my grandparents - my grandma randomly called me one day all, "We want to buy you a car!" which broke my brain, because
who just buys someone a car
? I'm sure they were more than happy to do it even though I don't think I've done anything to warrant a gift like this, but I still can't believe it. I've offered to do them lots of artwork as a show of gratitude since that's all I really have and there's no way I'm doing nothing in return.
Also, some art I did for Spelling Bee's new album:
A fox in boots! Not my best drawing, but I like it for being cute so here it is anyway.
The art is being hosted from my new website (elizabethgearhart.com - I also bought kittendrumstick.com and had it redirect to the first one), which isn't set up yet because I haven't found the time to transfer everything over and then update it all. As if I needed more incentive to do this, today someone who saw my art at Cranky Yellow e-mailed me to say they liked my stuff (yay!) and that they were looking for my website and found my Yahoo e-mail address instead (...weird!).
Travel stuff finally got worked out, so I will be in London from June 3-11. HOW AWESOME IS THAT. A couple of those days will be spent in Paris, but I forget which ones. Hopefully by then my stupid health problems will stop being problems so I can enjoy this trip properly. Though I guess if I get to the airport and feel like I'm gonna pass out, the plane ride won't seem as long. Maybe the TSA can just roll me through the x-ray machine with all of my belongings.
Comments {4}